Mark as New

Bookmark

Subscribe

Mute

Email to a Friend
Netiq Access Manager appliance problem after deploy
Hi!
i have deployed access manager 4.2 appliance after a tutorial.
the problem is , when i want to configure reverse proxy and click on cluster configuration > reverse proxy/authentication error is displayed :
[IMG]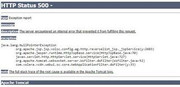 [/IMG]
description The server encountered an internal error that prevented it from fulfilling this request.
exception
java.lang.NullPointerException
org.apache.jsp.jsp.volsc.config.ag.http.reverselist_jsp._jspService(y:2603)
org.apache.jasper.runtime.HttpJspBase.service(HttpJspBase.java:70)
javax.servlet.http.HttpServlet.service(HttpServlet.java:727)
org.apache.tomcat.websocket.server.WsFilter.doFilter(WsFilter.java:52)
com.volera.vcdn.webui.sc.core.WebApplicationFilter.doFilter(y:33)
note The full stack trace of the root cause is available in the Apache Tomcat logs.
can you please advise?
btw it's vm inside vmware , 8gb memory , 2vcpu
7 Replies