How do you produce an XML document using DocFactory?
Problem:
How do you produce an XML document using DocFactory?
Resolution:
---
Product Name: CaliberRM
Product Version: 2006
Product Component: DocFactory
Platform/OS Version: All
---

To achieve this you will need to design a XML document with DocFactory tags. CaliberRM produces an XML formatted document when you click on any requirement. This XML file can be found in the following directory on your CaliberRM client machine (replace A_User with your user name).

C:\Documents and Settings\A_Users\Local Settings\Temp
The file name will be in the following format "~CRM2.xcr"
Below is a modified version of the XML document including DocFactory Tags.
XML tags are in Green and the DocFactory Tags are in Black.

See attached DocFactory Template (xml.dot)
Figure 1. Sample XML DocFactory Template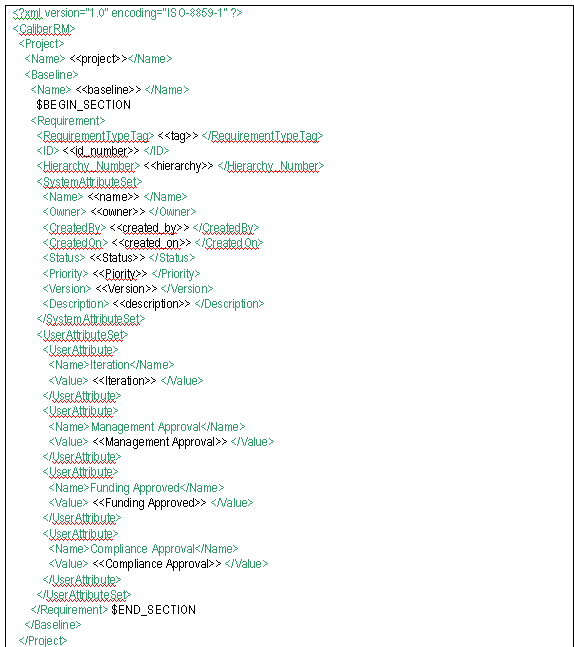 Additional DocFactory tags can be added to the template for specifying Projects, baselines and filtering requirements (see example below).
Figure 2. Partial XML DocFactory Template Sample with additional tags

---
Old KB# 16270
DISCLAIMER:
Some content on Community Tips & Information pages is not officially supported by Micro Focus. Please refer to our
Terms of Use
for more detail.