How to turn on DocFactory logging?
Problem:
How to turn on DocFactory logging?
Resolution:
---
Product Name: CaliberRM
Product Version: CaliberRM 2005 R2 SP1
Product Component: SDK
Platform/OS Version: Microsoft Platforms including XP / Windows 2000 / Windows Server 2003 / Windows Server 2005
---
To turn on DocFactory logging follow this procedure.
When you run DocFactory, on the Step 2 of 4 screen click the check box "Create Log File"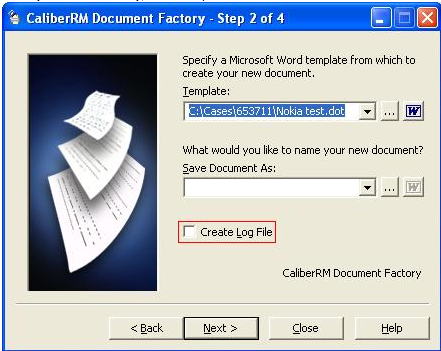 The log files can be found in the following location C:\Program Files\Borland\CaliberRM\log
---
Old KB# 15846
DISCLAIMER:
Some content on Community Tips & Information pages is not officially supported by Micro Focus. Please refer to our
Terms of Use
for more detail.