Why can other users not see the image(s) I have uploaded?
Problem:
Why can other users not see the image(s) I have uploaded?
Resolution:
Product Name: CaliberRM
Product Version: N/A
Product Component: Caliber Server
Platform/OS Version: All
---
Description:
I have uploaded images to the requirement description. Why can other users not see the image(s)?
---
Answer/Solution:
Even though a CaliberRM requirement description contains an image, no other Windows user (or other CaliberRM client machine) can view this image. All they see when they access the requirement description is the following symbol:

In order for other Windows users (or other CaliberRM Client machines) to be able to view images that you have uploaded, the following option needs to be checked on each Caliber Client machine (Tools/Options).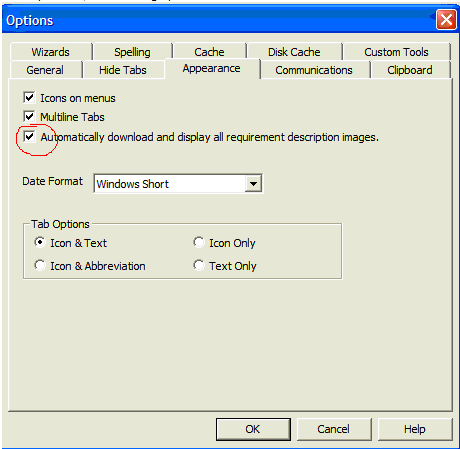 Once this option is checked, the Caliber server will automatically download all requirement description images to the user profile of the user currently logged onto the client machine. The image will be placed in an "ImageCache" folder in the user profile.
For example if the Windows user "sthompso" was logged onto the Caliber client machine, images would be downloaded to here:
C:\Documents and Settings\sthompso\Local Settings\Application Data\Borland\CaliberRM\ImageCache
An image will be downloaded to this location once a user tries to view the image by clicking on the requirement in the requirement tree. If you want to verify the exact location of the image, highlight the requirement description and press . You will then be able to see the source of the image file including the path to where it is saved.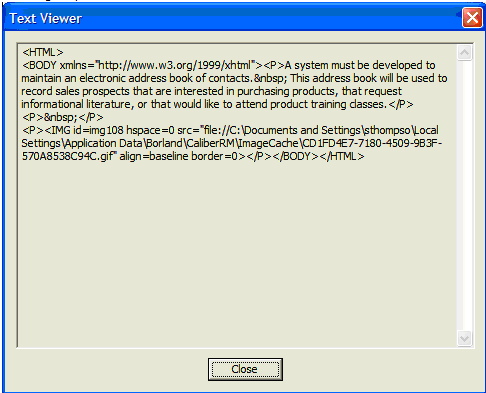 ---
Author: Sarah Thompson
Old KB# 15909
DISCLAIMER:
Some content on Community Tips & Information pages is not officially supported by Micro Focus. Please refer to our
Terms of Use
for more detail.