Why do I get an error "java.lang.OutOfmemoryError :Java heap space" in CaliberRM SDK?
Problem:
Why do I get an error "java.lang.OutOfmemoryError :Java heap space" in CaliberRM SDK?
Resolution:
---
Product Name: CaliberRM
Product Version: 2005 R2 SP1
Product Component: SDK
Platform/OS Version: All
---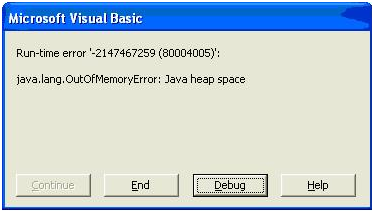 This is due to a known SDK COM problem and the Dot Net garbage collection. Normally to make sure we don?t receive the above error we would set the maximum memory flag of the Java Virtual Machine (JVM) so as the Java Heap Space would not run out of memory. See sample code below:
Dim objStJavaVMInfo As IStJavaVMInfo

" Get the current VM from the initializer...

Set objStJavaVMInfo = objInitializer.JavaConfiguration.CurrentJavaVM

" Set the max memory flag to 1000 MB...

objStJavaVMInfo.Options = "-Xmx1000M"
Unfortunately this code does not set the memory flag
As a workaround in Visual Basic.Net you would normally make an object equal to ?Nothing? to dereference it. The garbage collection system will then free up memory referenced to by this object. To do this use the code Obj = Nothing. Unfortunately this is not the case, when referencing the COM objects in .NET automatically wraps those references in something called RCW (Runtime Callable Wrapper). "UNMANAGED" objects are dealt with within the "MANAGED" .NET environment through the RCW. To make sure that the RCW objects are released we need to call the method
Marshal.ReleaseComObject(Obj)

This method is part of the "System.Runtime.InteropServices"

Calling this method will dereference the object and allow the garbage collection system to free up memory:

my_req = my_session.getRequirement(id_number)

System.Runtime.InteropServices.Marshal.ReleaseComObject(my_req)

my_req = Nothing
---
Old KB# 15876
DISCLAIMER:
Some content on Community Tips & Information pages is not officially supported by Micro Focus. Please refer to our
Terms of Use
for more detail.