Why do I receive "COM Server error" when attempting to run DocFactory?
Problem:
Why do I receive "COM Server error" when attempting to run DocFactory?
Resolution:
Description:
When attempting to run DocFactory, I recieve an error "COM Server Error" at the step of opening Word Document.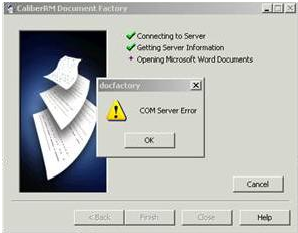 Details:
A basic MS Office package is required to be installed on the client machine that will be using DocFactory. DocFactory behind the scenes pulls data from the CaliberRM database to a local Access database in the users temp directory. The next phase effectively uses the Mail Merge utility of MS Word to merge the data from the Access Database iwith the defined template.
This is normally seen on the CaliberRM Server machine, since MS Office is common for user workstations, but not necessarily on managed servers.
This has also been seen in environments wherein Citrix Server is used to host the CaliberRM Client software, and although the user loads the CaliberRM client on their workstation which has MS Office, the software is instantiated from the Citrix Server Machine and that is where DocFactory will attempt to instantiate the COM calls for interfacing with MS Word.
Solution:
Install a basic MS Office package consisting of Word, Access, and Excel which will allow the user to generate documents using DocFactory. For images or embedded objects within the report, the viewer must have the appropriate application on their machine in order to interpret the information.
Old KB# 16385
DISCLAIMER:
Some content on Community Tips & Information pages is not officially supported by Micro Focus. Please refer to our
Terms of Use
for more detail.