Highlighted
Mark as New

Bookmark

Subscribe

Mute

Email to a Friend
TruClient - StormRunner - Access Arguments from Runtime Settings dialog
When using TruClient, I can record my tests and have them use Parameters when being played back.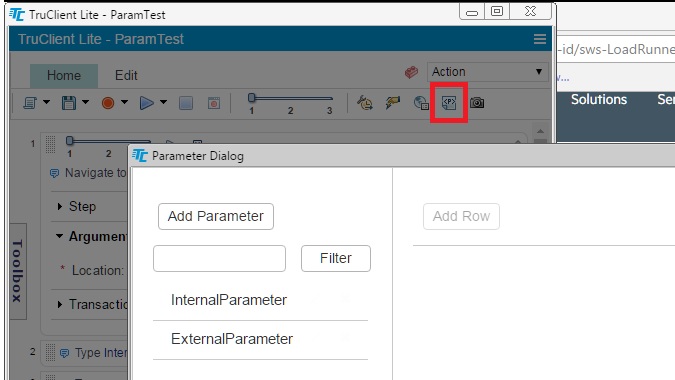 I am trying to figure out how to pass the value of these parameters in from within StormRunner. My expectation that these Arguments here are the same as Parameters.

I have tried using numerous permutations of the following JS Code in my step;
TC.getLRAttr("ExternalParameter")
TC.getParam("ExternalParameter")
Nothing seems to work and none of the TruClient API functions (that I have seen) seem to point towards how to do this.
Thanks for any and all help anyone can provide.
1 Reply
Highlighted
Mark as New

Bookmark

Subscribe

Mute

Email to a Friend
Re: TruClient - StormRunner - Access Arguments from Runtime Settings dialog
Hello Sage,
Additional Attributes are not supported in the TruClient Lite browser plugin.
If you'd like to use them, I suggest editing your script in VuGen or in TruClient Standalone.
Links to both are available in the "Get Tools" section in you SRL accound home page.
The API to get a value is TC.getAttr(...).
Edo