How can I add fields specific to a Product or Issue Type in SCIM?
Problem:
How can I add fields specific to a Product or Issue Type in SCIM?
Resolution:
ANSWER
----------------------------------
In SCIM version 3.3 and earlier there was a relationship between the Product / Release and the Platform. Therefore the Platform list changed dynamically depending on the Product / Release selected when adding a new Issue.

However, in version 4.0 onwards this relationship was removed which changed the options available to administrators when controlling user input. Now all Platforms are available for all Products. As designed, the new architecture introduced in 4.0 provides for much greater control over user actions.

Take for example a scenario in SCIM 3.3 designed to force users to choose from a Platform list specific to a Product - in version 4.0 this was no longer possible. To make the Platform field mandatory (Required) would have allowed users to select a Platform which may be related to a different Product.

Now there is a much greater range of options available to Administrators with the new "List of Values" which can be added to the fully customizable "Custom" tab.

In Administration | Configuration go to the "List of Values" tab and add a new List.


Give it a Name (e.g. Version), a Description and Group it by Product.


Then (still in the List of Values tab) you should see the new entry in the List. Click on this.


It is then possible to enter new values and make each value specific to a certain Product.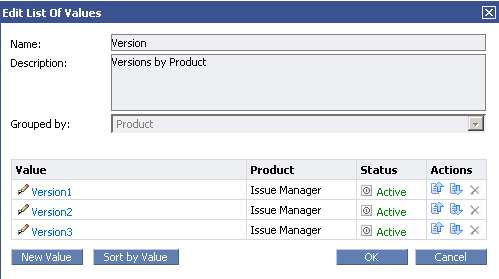 When you have values in the "Version" list, go back to Issue Manager | Configuration | Custom Issue Tabs.


In the Custom Tab, click on one of the options for example (custom1). This option is fully customizable. In here you should give the Label the name you want the field in the new Issue to be called (this time it"s called "Versions".
Next check the "Pop up list" Control Type. In the dropdown box which becomes available you should see the "Version" List you created earlier. Select this option and choose the "Required" Mode for New Issues.
Once you set the Group permission click OK.

Now go to Issue Manager | Tracking and add a new Issue. Select one of the Products and then go to the Custom tab on the right. In here you should see a required Versions field with a drop list specific to the Product you chose in the Description tab when you first opened the Issue.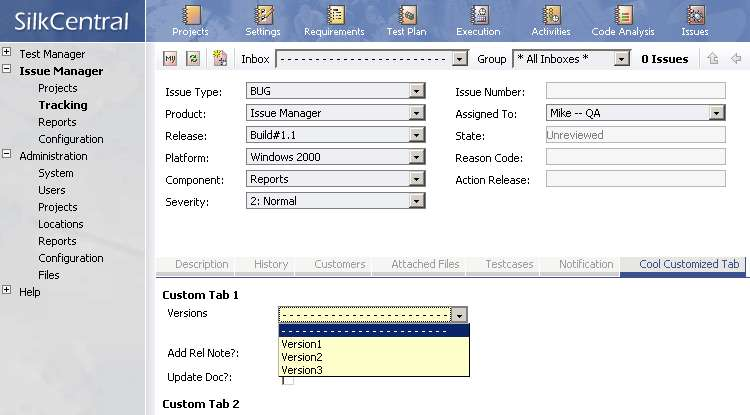 Switching between different Products should also update the list of fields which are available or required in the Custom tab.

See Help for full details

Old KB# 23656
DISCLAIMER:
Some content on Community Tips & Information pages is not officially supported by Micro Focus. Please refer to our
Terms of Use
for more detail.