How do I setup the integration of JIRA with SilkCentral Test Manager?
Problem:
How do I setup the integration of JIRA with SilkCentral Test Manager?
Resolution:
In order to setup the integration of JIRA with SilkCentral Test Manager firstly ensure that the JIRA plugin has been installed (see solution How do I install the JIRA Plugin for SilkCentral Test Manager?) and also that JIRA has been setup correctly to accept remote procedure calls (see solution How do I setup JIRA so that I can integrate it with SilkCentral Test Manager?).

Next follow the instructions below to create the profile to integrate JIRA with SilkCentral Test Manager.

1. Navigate to SilkCentral and log in with credentials that have authorization to create a new issue tracking integration.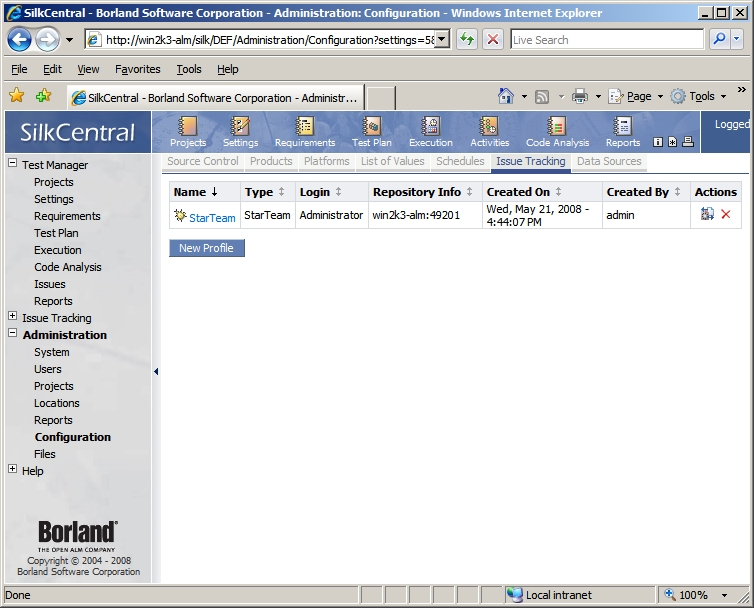 2. Click on the New Profile button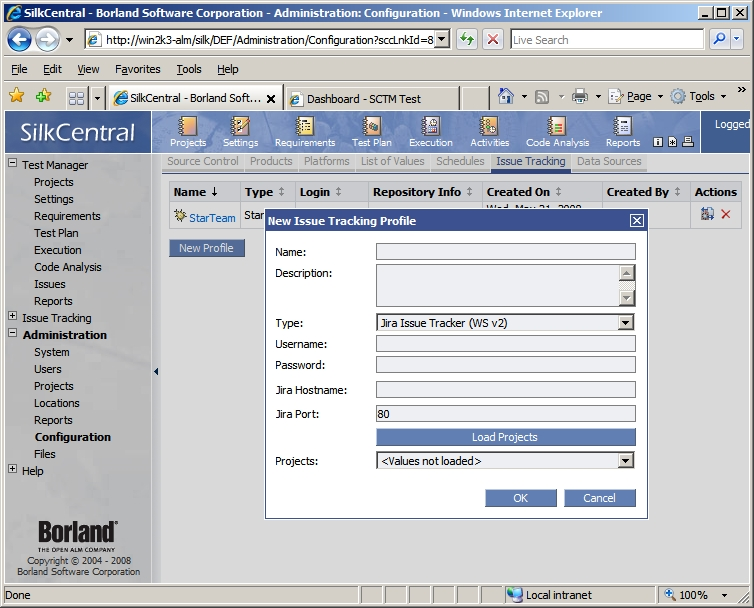 3. Give a name to the issue tracking profile.

4. Optionally, enter a description for this profile.

5. Enter the username and password that has authorization in JIRA to list all projects and issues.

6. Enter the fully qualified domain name (FQDN) of the server hosting JIRA.

7. Enter the port number that JIRA is using.

8. Click on the Load Projects button.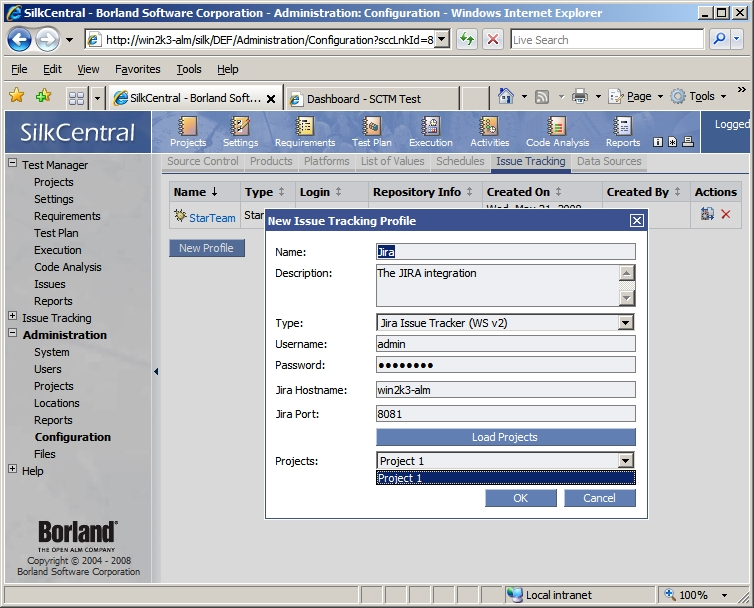 9. Select the JIRA project

10. Click OK

11. Optionally, define the mapping between the JIRA issue statuses and the SilkCentral issue statuses.

Legal Disclaimer

Non-Supported Applications

This section contains Applications and utilities (Applications) written by Borland Consultants, Borland Support Engineers and Customers. These Applications do not qualify for support services under THE Support Services Agreement. Borland Support will not assist with any requests. Borland strongly recommends that you schedule a services appointment with Borland Consulting prior to using any of these Applications. These Applications are provided in "AS IS" condition with no warranties or representations, express or implied.

BORLAND MAKES NO WARRANTIES, EXPRESS OR IMPLIED, EITHER IN FACT OR BY OPERATION OF LAW, STATUTORY OR OTHERWISE, AND BORLAND EXPRESSLY EXCLUDES AND DISCLAIMS ANY WARRANTY OF MERCHANTABILITY OR FITNESS FOR A PARTICULAR PURPOSE. THE APPLICATIONS ARE MADE AVAILABLE FOR USE AT YOUR OWN RISK. IN NO EVENT WILL BORLAND BE LIABLE FOR DIRECT OR INDIRECT DAMAGES INCLUDING BUT NOT LIMITED TO LOST PROFITS, OR ANY SPECIAL, INDIRECT, CONSEQUENTIAL OR INCIDENTAL DAMAGES, HOWEVER CAUSED AND ON ANY THEORY OF LIABILITY. THIS LIMITATION SHALL APPLY EVEN IF BORLAND HAS BEEN ADVISED OF THE POSSIBILITY OF SUCH DAMAGES NOT WITHSTANDING ANY FAILURE OF ESSENTIAL PURPOSE OF ANY LIMITED REMEDY.

Old KB# 30124
DISCLAIMER:
Some content on Community Tips & Information pages is not officially supported by Micro Focus. Please refer to our
Terms of Use
for more detail.