Define a custom browser type in Silk Performer
Any browser can be emulated by using the settings in the following location:
SETTINGS | ACTIVE PROFILE | REPLAY | WEB | BROWSER TAB - BROWSER | CUSTOM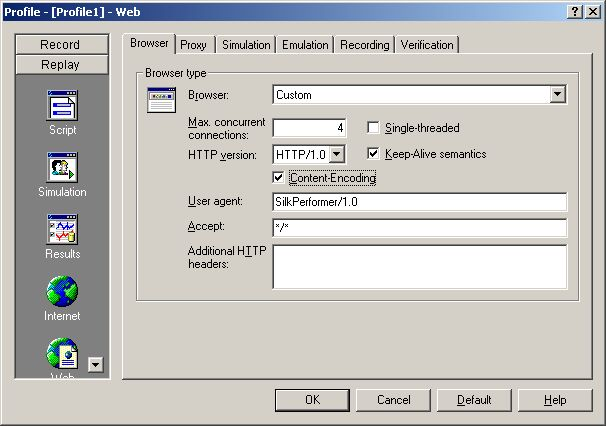 The following settings are configurable:
Max Concurrent Connections The number of connections is set according to browser type e.g. Netscape browsers, and IE browsers after 3.0, use 4 connections while Opera uses 8. Similarly for a Virtual User it will depend on the Browser Simulation chosen.
Set the "Max Concurrent Connections" to the value you require.
HTTP version Select HTTP version required. HTTP 1.0 allows a choice to be made for Keep-Alive semantics. Keep-Alive is a feature that, when supported by both browser and server, allows connections to remain intact after a request and response are completed.
HTTP 1.1 automatically selects Keep-Alive semantics
User Agent For custom browsers, specify user agent information sent to the server. This is typically the browser name, including platform information. This string is used for the HTTP request header "User-Agent:" that is sent using Silk Performer"s Web functions.
Content-Encoding Select this option to enable Silk Performer to decode compressed data received from the server.
If this option is enabled, Silk Performer sends an Accept-Encoding header to inform the server that encoded data (by using gzip and deflate compression methods) can be submitted.
Accept For custom browsers, specify the document types that the server may send to the client. This string is used in the HTTP request header "Accept:" that is sent using Silk Performer"s browser-level functions.
Additional HTTP headers For custom browsers, specify one or more additional headers, using exact syntax. Use a new line for each header. These headers will be appended to each request that is sent using Silk Performer"s browser-level functions.
If you are unsure which values are required a recording in Silk Performer will show many of the headers and the rest, such as Max connections, could be identified by doing a network sniff (or even a netstat -a) against a page with lots of large images.
DISCLAIMER:
Some content on Community Tips & Information pages is not officially supported by Micro Focus. Please refer to our
Terms of Use
for more detail.