Does changing the browser setting in the Active Profile from IE 6 to IE 7, have any affect on response times during Script Replay?
No, changing this Active Profile setting should have no affect on response times.
This setting only affects the format of the header information included in your HTTP requests; and the threading model used for simulation.
Since IE6 and IE7 both use the same threading models in communications with a server; modifying this setting should not have an impact on response times.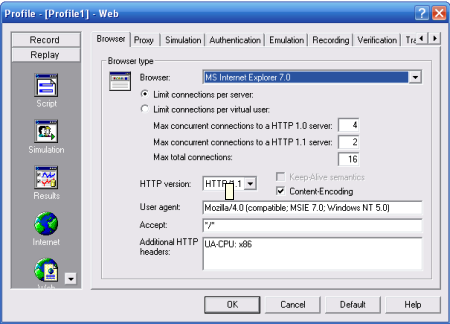 Please note that the value specified in BDL function "WebSetBrowser" will overwrite the value selected in the above setting.
DISCLAIMER:
Some content on Community Tips & Information pages is not officially supported by Micro Focus. Please refer to our
Terms of Use
for more detail.