How can I access low level properties when testing SAP?
You can view a list of methods and properties that the individual controls offer by inspecting the type library of the SAPGUI Scripting API which is contained in the sapfewse.ocx file. This can be found in the SAPGUI installation directory under "\SAP\FrontEnd\SapGui". Ole32View is a tool that allows you to view type libraries and ships with Visual Studio or can be downloaded from Microsoft.com.
From Ole32View select FILE | VIEW TYPELIB | Browse to the sapfewse.ocx file | Select Open.
SilkPerformer offers methods to Get/Set properties, and even for invoking methods. For more information please see the online help.
The screenshot below shows the available properties that can be accessed for a label control: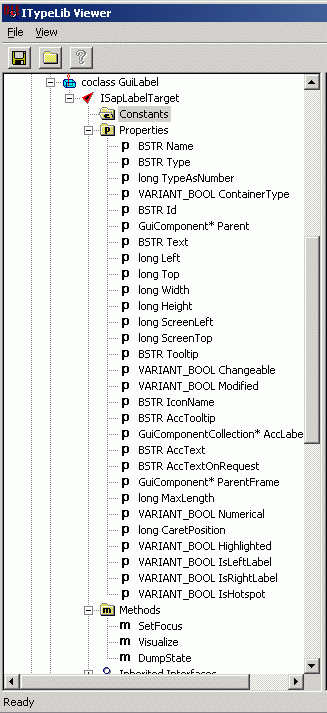 DISCLAIMER:
Some content on Community Tips & Information pages is not officially supported by Micro Focus. Please refer to our
Terms of Use
for more detail.