How can I create a "Decreasing" workload in Silk Performer?
When load testing with Silk Performer, there is a standard option to use an Increasing workload model which involves adding virtual users to a test over a specified period of time. In some circumstances, it may be desirable to use a decreasing workload, where the virtual users would begin the test at their maximum value, then gradually decrease the number of users over a period of time.
This workload is not built into Silk Performer as standard, though it is still possible to create such a workload. To achieve this, you can use either the Dynamic or All-Day workload.
To use the Dynamic workload, you could begin the test with the maximum number of virtual users you wish to run in the test. You can then gradually reduce the number of active users that are running in the test by using the sliding bar provided. This would be recommended for tests that will last for a relatively short period of time, as altering the number of active users is performed manually with this workload model.
To use the All-Day workload, you can specify multiple points in the test where you wish the number of active users to be modified. For example, you may begin a test with 100 users, then specify this to drop to 80 users after 3 minutes, then drop to 60 users after 5 minutes, etc. To make use of this workload for a decreasing model context, you can follow an approach of starting the test with the maximum number of active users, then specify time stamps where the number of active users will be decreased. You can see an example of how this may appear in the All-Day workload below: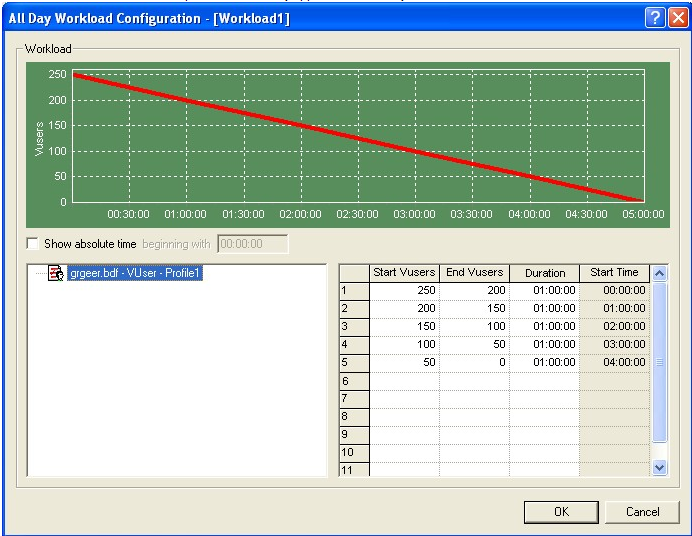 Notice that the plotted graph of users that will be active during the test is a decreasing line. To simulate a true decreasing pattern opposite to the increasing workload pattern, ensure that "Start VUsers" value for a row is the same as the "End VUsers" value from the previous row, i.e. if one time section ended on 200 virtual users, the next time section should begin with 200 virtual users.
DISCLAIMER:
Some content on Community Tips & Information pages is not officially supported by Micro Focus. Please refer to our
Terms of Use
for more detail.