How can I improve Truelog generation performance when executing a Citrix project?
The grabbing, reading, compressing, and writing of screenshots for TrueLogs involves significant processing resources which can potentially slow the execution of your Citrix project (with associated time-out issues).
By using the "Use RAM disk" option (disabled by default), you can enable faster TrueLog replay by using your machine's RAM memory to store image data, instead of naming files and writing them to your hard disk:
Active Profile | Citrix | Replay | General | Use RAM disk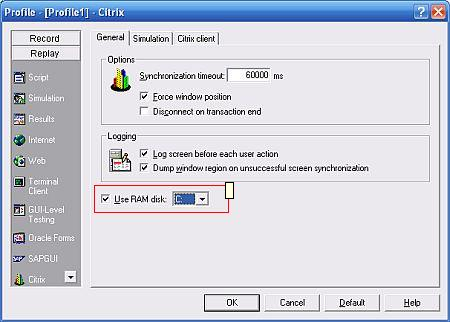 You should use the drop-down list to select the letter of your RAM disk.
NOTE: TrueLogonError should only be generated during a load test so as to reduce unnecessary resource overheads:
Active Profile | Results | Replay | Truelogl | ensure that "TrueLog on Error files (.xlg)" is checked and that "TrueLog files (.xlg)" is unchecked
DISCLAIMER:
Some content on Community Tips & Information pages is not officially supported by Micro Focus. Please refer to our
Terms of Use
for more detail.