How can I start recording an application manually after it has been launched by Silk Performer?
By default, the Silk Performer Recorder starts recording a script as soon as the application has been launched from the Silk Performer MMC.
If you wish to launch an application but only begin recording when a certain point or area has been reached, so that you can ignore information at the beginning that may be irrelevant for your test, you can do this by starting the recording manually.
To do this, in Silk Performer navigate to the following:
[Settings | System | Recorder | Services | Autostart Recording]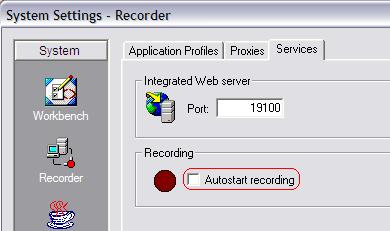 When this is enabled (the default setting) Silk Performer will begin recording script functions as soon as the application has been launched. Disabling this means that you can launch the application, but delay the on-set of recording until a later point in the application.
When the application is launched, you will see the following window appear:
If you click Yes, the recording will begin at the launching of the application. Choose No, and the application will begin with the recorder in a paused state. You can then click on the Record icon to begin the recording when your desired area in the application has been reached.
Silk Performer will automatically script any required cookies, containing session information which is required by the browser, from the previous pages that were unrecorded.
DISCLAIMER:
Some content on Community Tips & Information pages is not officially supported by Micro Focus. Please refer to our
Terms of Use
for more detail.