How can I use SQL server enterprise manager to change the password of my users for my SilkPerformer repository?
To be able to change the password of Repuser (the default user for SilkPerformer repository) you can do the following.
1. Go to Start | Programs | Microsoft SQL server | Enterprise manager
2. From the SQL server group list please select the name of the machine whereby the SilkPerformer repository database resides.
3. Select Security | Login
4. Double click on Repuser
5. In the password input box please insert new password as shown in the image below.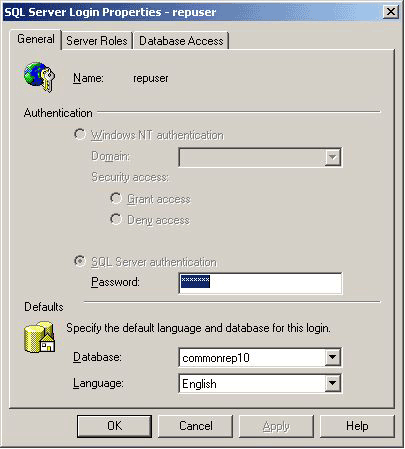 6. After inserting a new password for the user you will be prompted by the confirm password dialogue box. Please insert the password once more and click OK.
7. The new password will now be set for Repuser
For more information on setting up the repository please see the following resolution: What details are required before SilkPerformer can activate the MSDE repository ?
DISCLAIMER:
Some content on Community Tips & Information pages is not officially supported by Micro Focus. Please refer to our
Terms of Use
for more detail.