How do I configure SilkPerformer to record a newly installed browser?
If you install an additional browser, e.g. Netscape, after Silk Performer has been installed you will have to configure Silk Performer manually to capture the traffic. Please follow the steps below:
Go to SETTINGS | SYSTEM | RECORDER | APPLICATION PROFILE and ADD a new application profile.
For the example of Netscape:
Ensure the Application Path is pointing to the "Netscape.exe"
Ensure the Application Type is pointing to "Netscape Browser"
Most importantly ensure the "Winsock API" is chosen and uses the "wsock32.dll", which is required when hooking Netscape.
Attempt to record a script and functions should be recorded.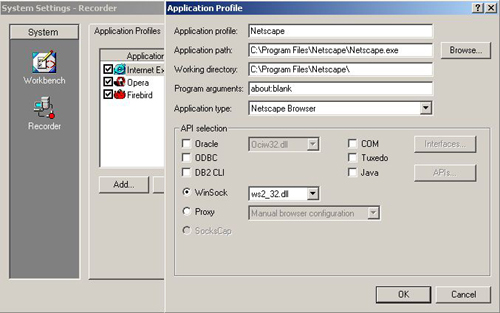 NB
Netscape Navigator "Winsock API" should be set to : wsock32.dll
Internet Explorer "Winsock API" should be set to : ws2_32.dll
DISCLAIMER:
Some content on Community Tips & Information pages is not officially supported by Micro Focus. Please refer to our
Terms of Use
for more detail.