How does the SilkPerformer recorder generate test scripts?
The SilkPerformer recorder will hook into the client program (via the client executable defined in the application profile) that will make calls to the server. The process of hooking means wrapping client calls in the SOCKS protocol and redirecting traffic to the recorder's SOCKS proxy. Basically SilkPerformer recorder will act as a proxy server and all traffic is redirected through this. Using this method the client application, and the requests it generates, are untouched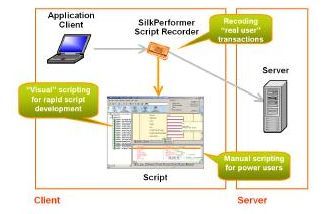 The recorder captures traffic sent to and received from the server, either at the protocol level or at the interface level. As a result all traffic is captured and resultant test scripts are more effective at realistically simulating real users.
DISCLAIMER:
Some content on Community Tips & Information pages is not officially supported by Micro Focus. Please refer to our
Terms of Use
for more detail.