In the workload configuration window, in what order are the scripts to be executed listed ?
In the Workload Configuration window the scripts and User Types are listed alphabetically, by script and then user group.
In the Project pane window the script files are listed alphabetically if the project has been reopened after the script was saved, otherwise the script files will be listed in the order they have been added to the project.
For more information on workload types and parameters please see "Administering the workload definition in a project" in the Online Help.
Neither of these listing will affect the execution order. The type of Workload selected defines the order the scripts will be executed. For example, if SteadyState or Queuing is selected, with no Start Time Offset set, then all virtual users will begin at the same time. If an Increasing workload is chosen (assuming that all users have the same Simulation Time, Increase After interval, no Start Time Offset and the same Start Users number) then the same number of users from each user group, defined for each script, will be started at the same time.
Consider the following Workload Configuration where there are 3 unique scripts with the following user groups defined: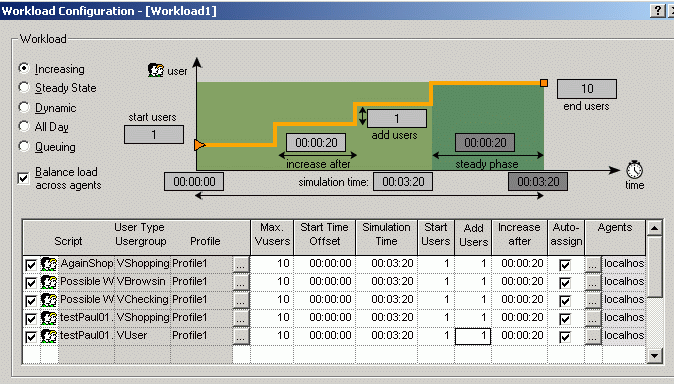 Script

                                             

UserGroups


AgainShop                                         Vshopping

Possible Workaround                                VBrowsing
                                                   Vchecking

TestPaul01                                         VShopping
                                                   Vuser

At the beginning of the test 1 virtual user from each group will run: AgainShop-Vshopping, PossibleWorkaround-VBrowsing, PossibleWorkaround-Vchecking, TestPaul01-Vshopping and TestPaul01-Vuser.
DISCLAIMER:
Some content on Community Tips & Information pages is not officially supported by Micro Focus. Please refer to our
Terms of Use
for more detail.