Is it possible to monitor performance measures from individual databases on SQL Server?
It is possible to get measures per database in Performance Explorer. In Performance Explorer go to Monitor | Add Data Sources | Select from Predefined data sources. Locate and expand the Custom Data folder.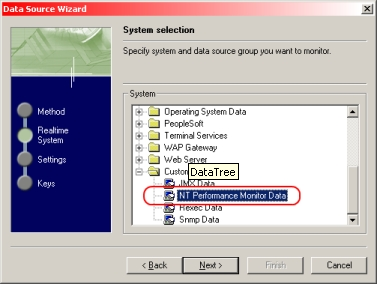 Select NT Performance Monitor Data and click Next. On the resulting screen enter the credentials of the SQL server hosting the databases and select Next. You will then see a list of Performance Objects. Scroll down to the SQL Server ojects.
The following objects each provide measures per database: SQLServer:Databases, SQLServer:Broker Activation and SQLServer:Catalog Metadata. Each of these return a list of the counters available and a list of the databases on the SQL Server.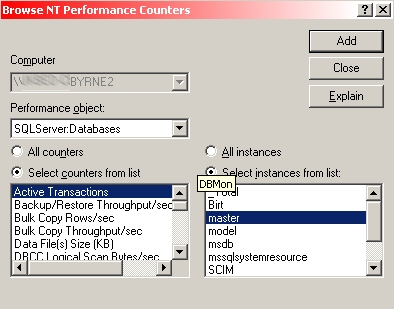 It is possible to combine any database with any counter and add each of these into a monitor graph simply by using the Add button in the same window. The list of measures available per database is limited to the counters provided by PerfMon. Each of the other SQL Server objects (such as SQLServer:General Statistics), provide counters on the SQL Server as an individual entity and not on a per database instance.
DISCLAIMER:
Some content on Community Tips & Information pages is not officially supported by Micro Focus. Please refer to our
Terms of Use
for more detail.