On replay of my MAPI script, how do I resolve the error message: "MapiGetMessage(MAPI: 6 - Mapi Runtime Error., An invalid message identifier was passed in the lpszMessageID parameter)" or " Invalid M
This error can be caused by a bug in Microsoft Outlook 2003 which was fixed in the Outlook 2003 hotfix package (January 20, 2004).
To check if you have Service Pack 1 installed for Outlook 2003, open Outlook and click "Help | About Microsoft Outlook" and you will see the following if Service Pack 1 is installed: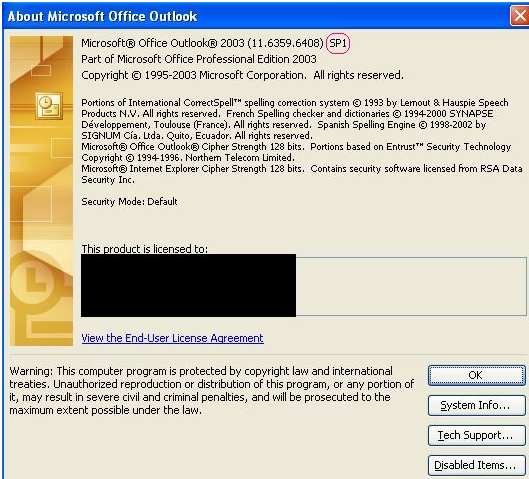 If "SP1" (circled in red above) does not appear, then Service Pack 1 is not installed.
DISCLAIMER:
Some content on Community Tips & Information pages is not officially supported by Micro Focus. Please refer to our
Terms of Use
for more detail.