Silk Performer integration with Borland ServerTrace to perform in-depth J2EE monitoring.
Please note, this plug-in has been deprecated and no longer exists.
The integration provides remote control of the Borland ServerTrace agents as well as real-time JVM metric collection.
By using Performance Explorer to query JVM Metrics and the ServerTrace agents to take snapshots, Silk Performer can collect real time metrics while a J2EE application is under load conditions. This information can be used to identify the root-cause of performance problems.
For the integration to work ServerTrace 3.0 agents require a JMX enabled application server such as WebLogic. In order to publish its metric-collection and control interfaces ServerTrace 3.0 runs a JMX to SNMP adapter that provides remote access over SNMP connectivity.
The image below illustrates the integration of ServerTrace with Silk Performer. Silk Performer's plug-in for ServerTrace 3.0 communicates with one or more ServerTrace agents while the ServerTrace agents reside within the Java virtual machines (JVMs) of the system under test (SUT). In this sample, the SUT consists of three JVMs, each JVM hosting an application server; e.g BEA WebLogic, JBoss or WebSphere.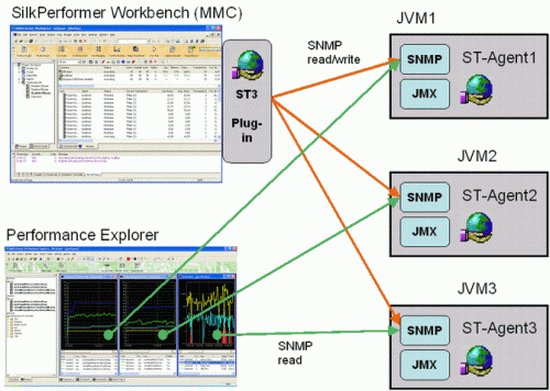 Snapshot Preparation
From the Silk Performer GUI you can now configure, start, stop, and hibernate ServerTrace, as well as generate ServerTrace TotalCapture Snapshots, which provide the deep level of diagnostics required by J2EE application developers to identify and fix code issues.
To enable the plug-in
Open Silk Performer
Click SETTINGS | SYSTEM | SERVERTRACE | GENERAL Tab | Check "Enable Plugin"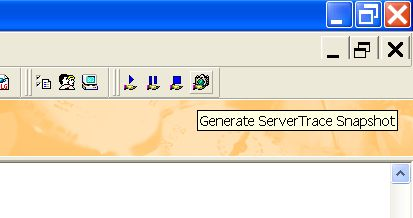 SeverTrace Toolbar enabled
J2EE Real-Time Monitoring
Silk Performer 6.6 Performance Explorer makes use of the SNMP interface to query Java metrics from ServerTrace agents in real-time. Performance Explorer also collects real-time JVM metrics through the SNMP/JMX/ServerTrace agents.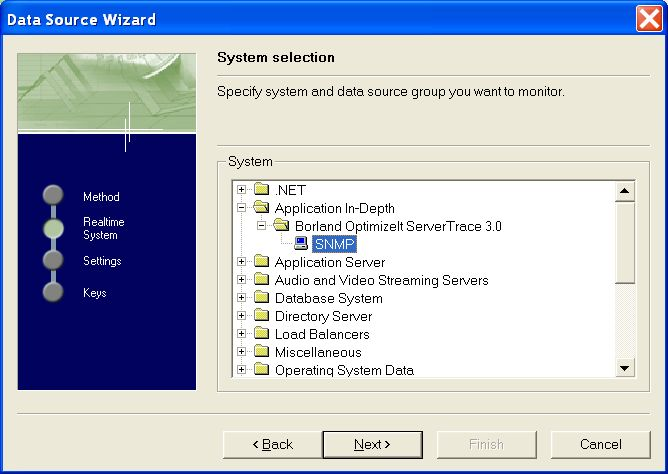 DISCLAIMER:
Some content on Community Tips & Information pages is not officially supported by Micro Focus. Please refer to our
Terms of Use
for more detail.