What data types does the .NET Explorer support as input paramaters and how can I add other data types or objects as input parameters?
The Silk Performer .NET Explorer provides the following basic data types.
Boolean
Double
Integer
String
Data types are typically used in the .NET Explorer in the Input and Verification Wizard or to create new global parameters. For example, if the data type of an input value is an Integer then you can specify the value of this parameter directly with the input data wizard as System.Int16 / Int32 / Int64 are available by default. The screen shot below displays an input parameter being used which is of the Integer data type.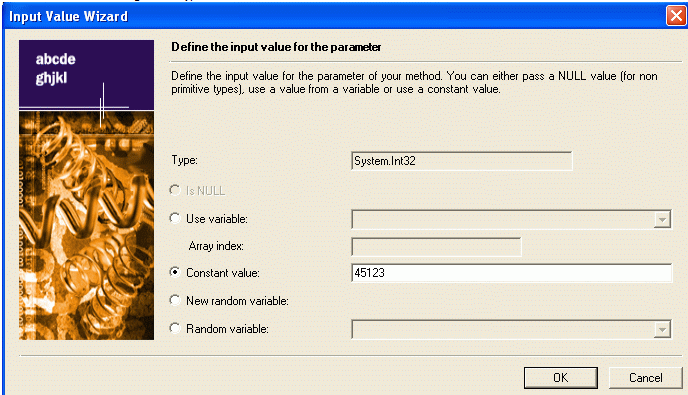 A WSDL or .NET Assembly which is loaded in the .NET Explorer should ideally contain all of the data types which are required for Input Parameterization or Verification. However if a data type is not provided by the loaded libraries and you wish to perform Input Parameterization or Verification then it is possible to workaround this by loading another library and instantiating the object with a supported data type manually.
For example consider if I wanted to instantiate and test an object from a custom library which did not provide a data type for method parameterization (i.e. the object requires the data inputted as an integer data type but the library does not provide this). I can workaround this problem by loading the MS core library "mscorlib.dll" and using the static Parse method "Int32.Parse". This method works by taking a string as an input parameter, parsing it and then returning the parsed string as a number. On execution the method will return any number entered as a string as a Int32 data type (i.e. the parsed value). This means that the returned value can now be stored as an Object/Global variable and be used as an input parameter for subsequent method calls.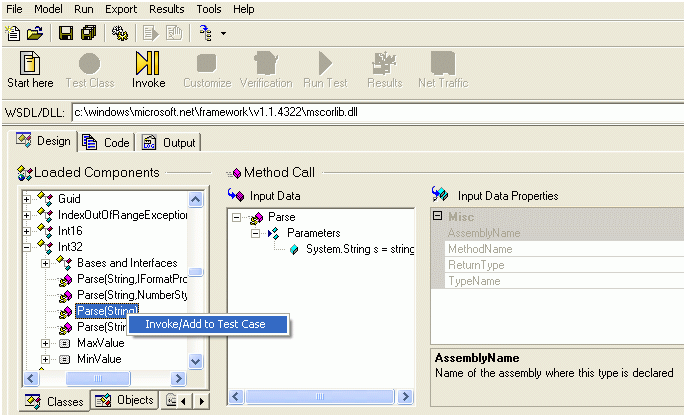 DISCLAIMER:
Some content on Community Tips & Information pages is not officially supported by Micro Focus. Please refer to our
Terms of Use
for more detail.