What new Workload Configuration options are available in SilkPerformer 2008(R2)?
The Workload Configuration dialog in SilkPerformer 2008(R2) now includes a separate tab "Agent Assignment"; enabling the configuration of how Agent machines are assigned and used during a Loadtest: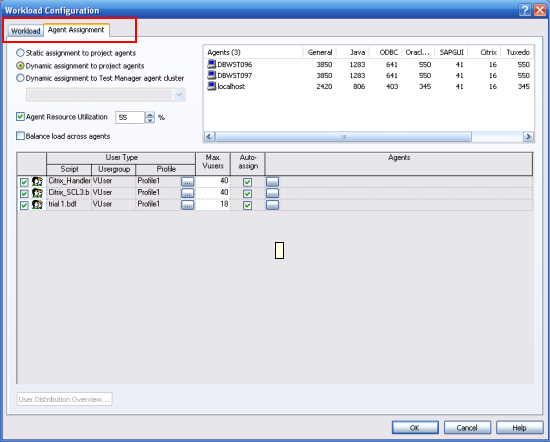 The following 3 options are now available to configure how Agents can be assigned in your loadtest:
Static Assignment to project agents: use this method to statically assign specific Agent machines to your Project. Agent-locking is disabled with this method.
Dynamic assignment to project agents: with this approach the workload is delivered using dynamic agent-assignment at Execution time. This enables SilkPerformer to automatically select Agent machines with appropriate capabilities, based on the resource requirements for the loadtest, and the Agent"s specification. Agent locking at Execution time is enabled with this method; so only those Agents that are not locked by another Controller can be used in the loadtest.
Dynamic assignment to Test Manager Agent Cluster: with this method the workload is delivered by way of Test Manager.

On the Agent Assignment tab the name of the Agent Cluster used to deliver the workload is selected from the dropdown list. TestManager provides the list of Agent machines that are assigned to the Cluster; and the Workload is assignedto specific Agents at Execution time, based on the capabilities of the individual Agents. With this approach; the Agent Cluster can be modified without requiring any changes to the SilkPerformer project, and Agent-locking is enabled at Execution time.
Agent Resource Utilization:
This option can be enabled to assign a maximum percentage of total Virtual Users that each Agent can run, based on the Agent"s replay capabilities.
For example; if an Agent can run 50 VUsers of SAPGUI capability, then an "Agent Resource Utilization" value of 50% results in 25 available SAPGUI Virtual Users in the test. This value is also reflected in the Agents table.
Balance Load across Agents:
This Checkbox can be enabled to apportion Virtual Users across agents, and is particularly relevent when running Increasing or Dynamic workloads. This option does not come into play until Execution time; but when not enabled, the load may be distributed across Agents randomly.
For example - Without Load Balancing across Agents:
Agent 1: Virtual User1, Virtual User2, ..., Virtual User17
Agent 2: Virtual User18, Virtual User19, ..., Virtual User34

Agent 3: Virtual User35, Virtual User36, ..., Virtual User50

Load Balancing across Agents enabled:
Agent 1: Virtual User1, Virtual User4, Virtual User7
Agent 2: Virtual User2, Virtual User5, Virtual User8
Agent 3: Virtual User3, Virtual User6, Virtual User9
DISCLAIMER:
Some content on Community Tips & Information pages is not officially supported by Micro Focus. Please refer to our
Terms of Use
for more detail.