When importing a client certificate into SilkPerformer why do I get the warning "Could not import certificate, security 100: app data in handshake"?
If you see this message dialog appear during import of the client certificate in SilkPerformer it indicates that the certificate was exported from your browser without any passwords being specified. When using the certificate export wizard in your browser you will be prompted to provide a password that needs to be specified when the certificate is imported into another browser or application, however providing the password is optional so you can complete the export without specifying one. It is however recommended for security reasons that you do specify a password when exporting the certificate and SilkPerformer will not allow you to import the certificate if there is no password used.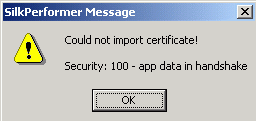 DISCLAIMER:
Some content on Community Tips & Information pages is not officially supported by Micro Focus. Please refer to our
Terms of Use
for more detail.