Why can I not select a testcase in the SilkTest project that I have imported into SilkPerformer for GUI-Level testing?
If a Testplan *.plan file is included in a SilkTest project which is exported to SilkPerformer, you will not be able toselect a testcase from the "select testcase" dropdown list on the "AddTestcase dialog in SilkPerformer (below) when configuring your project - it will begreyed-out.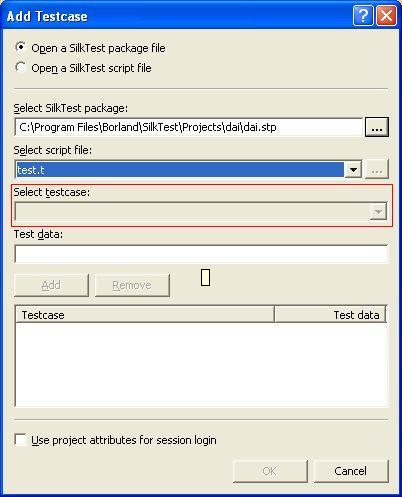 This is a known issue in SilkPerformer which may be workaround as follows:
1. Go back to the original SilkTest project and remove the*.plan file - you do not have to delete the actual file, but just simply remove it from the Testplan folder in SilkTest's project treeview;
2. Recreate the SilkTest *.opt and *.stp files and Why do I get the error "GUI-Level Testing Replay:11 SilkTest reported. Project failed to open"?;
3. When the two above files are imported into your SilkPerformer GUI-Level testing project, you will then be able to select a testcase from that SilkPerformer dropdown without problem.
DISCLAIMER:
Some content on Community Tips & Information pages is not officially supported by Micro Focus. Please refer to our
Terms of Use
for more detail.