Attributes defined for use in my Test Plan file now no longer exist; where should this information be stored?
I had defined "test attributes" for use in my Test Plan file; however I now find that they no longer exist, where should this information be stored?
Solution:
----------------------------------
When you create an "attribute" (and even assign its values) using the Testplan/Define Attributes option, this information is directly written to the testplan.ini file of your current open SilkTest Project. If you are not using projects, then it will be written into SilkTest"s central testplan.ini file which is located in your SilkTest directory, for example; C:\Program Files\Segue\SilkTest\testplan.ini.
It may be that you had created all your attributes while in a specific project and if you have since closed that project it means that you no longer have access to that project"s testplan.ini file.
If you are creating different attributes for each project then you don"t need to worry about centralising the information. However, if you want to create a group of Attributes and values which you will use across multiple projects, then it would be a good idea to close all your projects down before creating your Attributes and values. With no project loaded, when you create new attributes, the information will be written into the central testplan.ini file in the SilkTest directory. When you open a project or create a new one, you can add this testplan.ini file into your project treeview as seen below, thereby giving that project access to all the attributes and values you have created.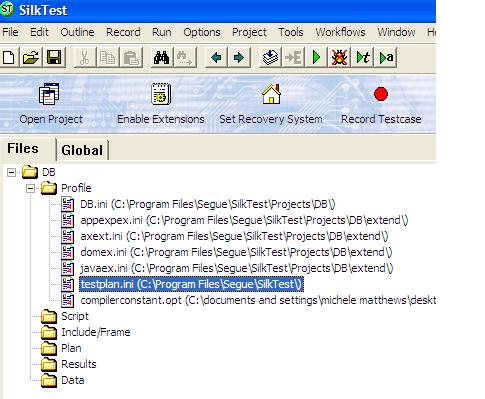 Old KB# 21210
DISCLAIMER:
Some content on Community Tips & Information pages is not officially supported by Micro Focus. Please refer to our
Terms of Use
for more detail.