Can SilkMeter be configured for clients machines on different subnets utilizing NAT?
SilkMeter can be configured as a license server for machines which see the server differently in the same network. Take for example the setup below: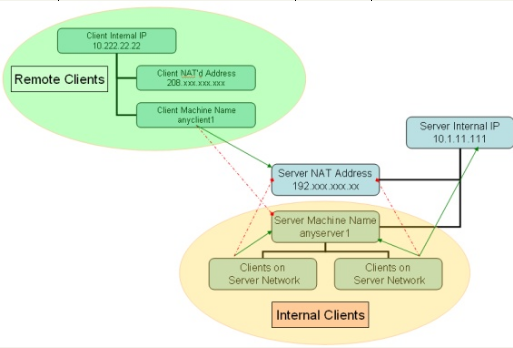 This consists of one network but with two distinct subnets (remote clients for example could be overseas). Within the subnet which hosts the license server, the client machines can resolve the NAME of the server but not the NAT address. The opposite is true of the remote clients, they can resolve the NAT address but not the NAME.
An issue will arise when remote clients try to connect as the SilkMeter service will respond with the IP address of its first NIC in the IOR (in the above example 10.1.11.111). This works fine for clients in the same subnet as they can resolve the server internal IP address however remote clients will report the error "The communication with the license server failed".
To work around this we need to configure the server to respond with its name and then update the HOST file on the remote client machines to resolve this name to the servers NAT address. This way both internal and remote clients get a response with the servers NAME. Internal clients recognize this instantly while the remote clients will resolve the name to the NAT address via the HOST file.
To configure the SilkMeter server to respond with its name add a entry to its config.xml file in C:\Program Files\Borland\SilkMeter\bin. This should be done with a text editor.
Using the above example would result in a config.xml like this:
<SMPSettings>
<Server>
<BindTo></BindTo>
<Host>anyserver1</Host>
<Port>0</Port>
<MultihomedMode>false</MultihomedMode>
</Server>
<Log>
<WebPort>19462</WebPort>
<Refresh>30</Refresh>
</Log>
<Settings>
<Timeout>10000</Timeout>
<KeepAlive>
<Time>100000</Time>
</KeepAlive>
</Settings>
</SMPSettings>

and an entry in each client machine HOST file of:
192.xxx.xxx.xx anyserver1
If issues remain after implementing this approach please contact Technical support.
Old KB# 25193
DISCLAIMER:
Some content on Community Tips & Information pages is not officially supported by Micro Focus. Please refer to our
Terms of Use
for more detail.