Can comments be added to a testcase while SilkTest is recording?
Yes, by choosing Record -> Actions; comments, hand scripted actions and deletions can be inserted into the script throughout the recording process. Any editing is carried out by typing directly into the Record Actions window as seen below. When the testcase is pasted to the script file, all modifications will be upheld.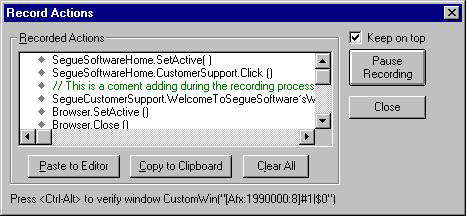 However, if the Record -> Testcase is chosen, there is no way to add comments while the testcase is being recorded. Any comments will have to added to the testcase after the recording process has ended. During the Record -> Testcase process, only the Record Status dialog is available and it has no functionality to allow adding comments. Once the recording process has finished and the Record Testcase dialog box has reappeared, then comments, additions and deletions can be carried out in this window. Otherwise, the testcase can be pasted into the script file first and then modified.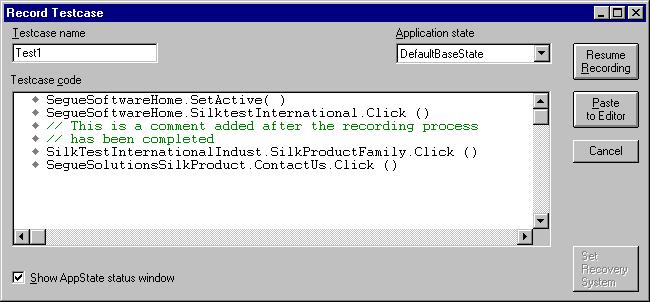 DISCLAIMER:
Some content on Community Tips & Information pages is not officially supported by Micro Focus. Please refer to our
Terms of Use
for more detail.