How can I compare two TrueLog files in the TrueLog Explorer?
Comparing two TrueLogs enables you to walk through two or more test runs generated by the same test script to
identify playback errors. If you need to edit your 4Test scripts, you must do this within SilkTest.
TrueLogs are loaded into Default view. TrueLogs are loaded into "Compare View" automatically when you explicitly
select the "Open in Compare View" check box on the Open dialog.
Procedure To enable Compare Mode:
With Silk TrueLog Explorer open and your TrueLog files loaded, locate a TrueLog of interest in the Tree List.
Select View/Compare Mode.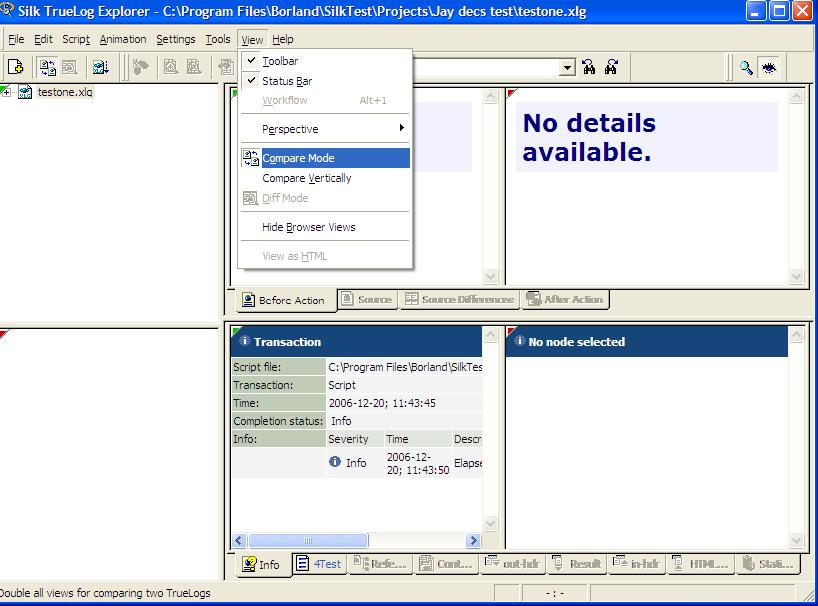 Note: Multiple entry points and approaches are available for the comparison of TrueLogs. TrueLogs do not need to be
loaded into a particular location of the Tree List.
Procedure To compare two TrueLogs:
Select File/Add TrueLog. The Open dialog displays.
Select the first TrueLog you want to compare and click Open. The TrueLog opens in the Tree List.
Select File/Add TrueLog. Select the second TrueLog you want to compare in the Open dialog that appears.
Check Open in "Compare View".
Click Open. The second TrueLog opens in a second Tree List, below the first TrueLog.
Select Edit/Step through TrueLog. The Step through TrueLog dialog is displayed with the SilkTest nodes option selected, allowing you to run a node-by-node comparison of the TrueLogs.
Click the Find Next button to step through the two TrueLog result files one node at a time, side-by-side.
Old KB# 20947
DISCLAIMER:
Some content on Community Tips & Information pages is not officially supported by Micro Focus. Please refer to our
Terms of Use
for more detail.