How do I check out SilkMeter licenses across domains from another Silkmeter server?
If you have a Silkmeter server that is serving multiple domains (or multiple subnets within a single domain), you may run into the problem where SilkTest (or TestManager or Silkperformer) will return a "no policy file for [client name]" error when there are clearly licenses still available. The normal solution to this problem is to cross-reference the host file in each PC so that the hostname is tied to an IP address; however, there may be times where this is physically extremely difficult (such as when running a virtual server farm of many thousands of machines). In these circumstances it is possible to have Silkmeter sub-servers on the different domains and to use each of these sub-servers to check out licenses from the main server. The applications that require a license can then check out the required license from the sub-server on their domain.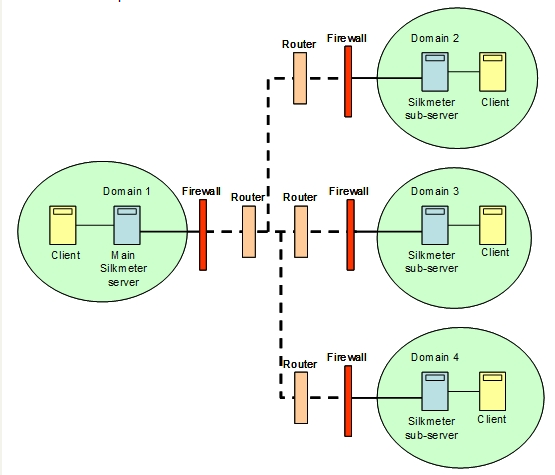 Multiple Domain Configuration Example

The above configuration can also be applied to subnets that are separated by routers and firewalls but are otherwise on the same domain.
Configuring the Silkmeter Sub-Server

Install SilkMeter without adding any SilkMeter policies.

Start the Silkmeter Policy Administrator from:


Start menu | Programs | Borland | SilkMeter | Policy Administrator

Go to menu Edit | Configure Manager Connection.

Select "Use SilkMeter Manager" and set the main SilkMeter server as the host.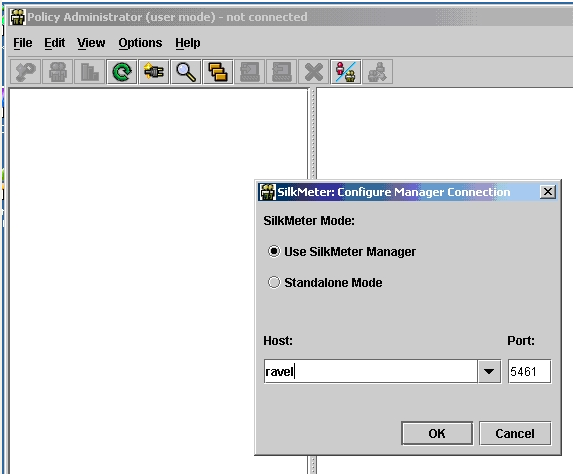 Select OK. The license tree in the SilkMeter main window should now update and list all available licenses from the main Silkmeter host.

Select all licenses you need for the clients (multiselect works).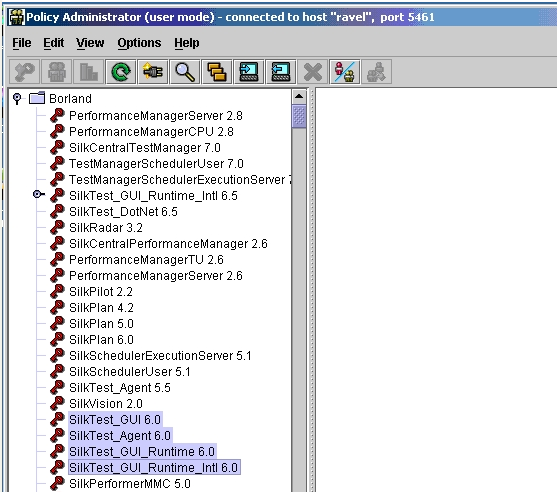 Go to menu File - Check Out Policy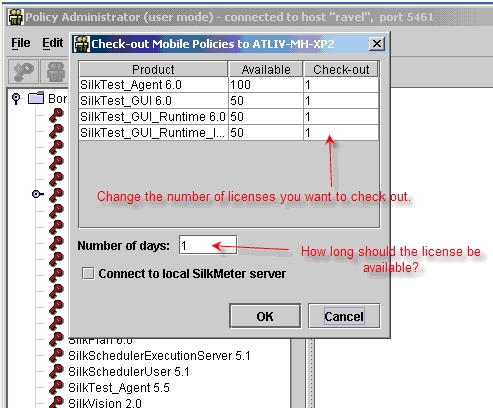 Select OK. The main Silkmeter server will check out the licenses which will then appear as mobile license in the Silkmeter sub-server.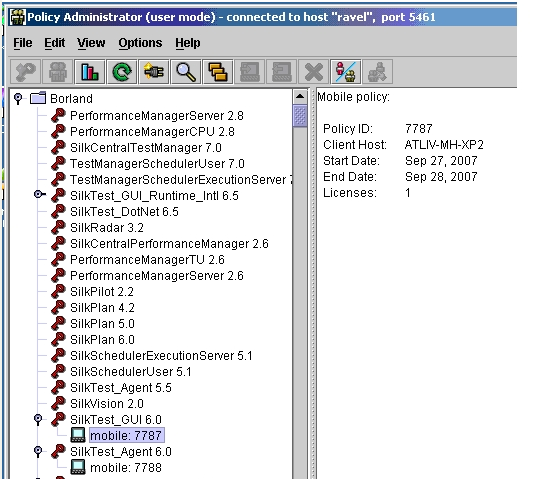 Finally, configure the SilkMeter settings of your hosts to connect to this license server.

NOTE: When you have configured the sub-servers, set up a trial run with a single license for one day only. If the run fails, you will only lose one license for one day instead of all licenses for a long period.

License Checkout Period

By default, Silkmeter checks out mobile licenses for a maximum of fourteen days. Once you have a good stable environment and are happy with the way that it operates, you can change the default checkout period by modifying the following registry setting on the SilkMeter Server machine i.e. the machine on which the license files (.pol) are physically located:

Key: HKLM\\System\\CurrentControlSet\\Services\\SgMeManager\\Parameters
Value Name: MaxMobileDays
Value Data: 14

DISCLAIMER:
Some content on Community Tips & Information pages is not officially supported by Micro Focus. Please refer to our
Terms of Use
for more detail.