Why am I unable to enable SilkTest extensions for Internet Explorer?
When enabling the extension for Internet Explorer, after closing the application the user is asked to click the "Test" button. After clicking the "Test" button, the following message may appear:

Error: Unable to load extensions: Enabled extension(s) for iexplore.exe * not installed
There are numerous resolutions to try and alleviate this problem, all dealing with the proper registry of the QAPhooks.dll, which is the main cause of these types of errors. This can be a fault in the registering of the QAPhooks.dll when installing because of internet security settings:

1. Check that the third party browser extensions are enabled.

Open Internet Explorer

Go to Tools > Internet Options menu

Go to the Advanced tab

Scroll down until you find "Enable third-party browser extensions (requires restart)". Ensure this option is checked. Restart Internet Explorer.

2. This problem can be related to an incorrect value for "qaphooks.dll" in the machine"s registry. The value for the registry entry "AppInit_DLLs" must be "qaphooks.dll" with no additional characters. If the value has "qaphooks.dll" followed by a semi-colon (i.e. ;), then delete the semi-colon.

Open the Registry Editor: Start > Run > regedit.

Search for "AppInit_DLLs": Edit > Find.
It should be located at HKEY_LOCAL_MACHINE\SOFTWARE\Microsoft\Windows NT\Current\Version\Windows
Double-Click on "AppInit_DLLs".

Ensure the Value Data is: qaphooks.dll

Remove additional characters, specifically any semi-colon character which may be present.

Click OK, close the Registry Editor and Reboot the machine.

3. Ensure that the "QAPHLPROBJ Class" is enabled in your browser Add-ons. To check this;

Open Internet Explorer

Click "Tools"

Click Manage Add-ons...

If the "QAPHLPOBJ Class" is in the disabled section, highlight it and select the "Enabled" radio button

Now try and enable extensions again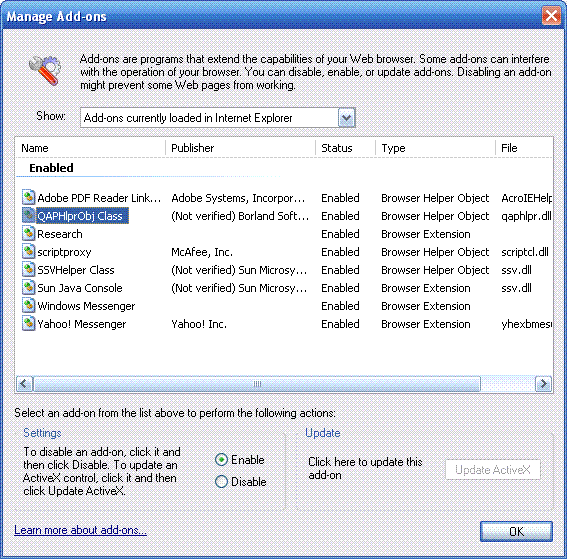 DISCLAIMER:
Some content on Community Tips & Information pages is not officially supported by Micro Focus. Please refer to our
Terms of Use
for more detail.